LIL' DRAGONS

(ages 4-6)



 



 
Developing the Skills to Succeed



Do want to get your 4-6 year old involved in a program that will help prepare him for his upcoming school years? Would you like an activity that can help your child use up his or her youthful energy?





Our Lil' Dragons program is a must, then! Not only will it help prepare your child for school, it will also help them develop the skills they will need to succeed in school. These skills include being able to follow directions, getting along with others, and raising their hand when a question is asked. They'll also learn how to show respect toward their teachers and role model figures by saying, "Yes, Ma'am" and "No, Ma'am" when answering a question. Lil' Dragons is also a great release for the energy that your child has built up throughout the day.

What will my child work on?

| | | | | |
| --- | --- | --- | --- | --- |
| |   | Being responsible | | Following directions |
| | | Listening skills  | | Learning to share |
| |   | Team work | | Acting respectfully |
| |   | Balance and coordination | | Stimulating curiosity |
| |   | Self control | | Taking turns |
| |   | Problem solving | | Fighting childhood obesity |

Lil' Dragons is more than just a Martial Arts Program for 4 - 6 year olds. It's a unique program designed especially with young children in mind. We understand that younger students have a shorter attention span and that's why our program uses interesting and enjoyable methods to keep their attention. Our Lil' Dragons Program can help improve hand-eye coordination, flexibility, strength, balance and gross motor skills through developmental Martial Arts activities such as learning to block, punch, kick, and tumble. 

But what advantages does Martial Arts have over t-ball, basketball, or seasonal sports to develop children into strong individuals? First, Martial Arts isn't just a physical avenue of learning for young children, although your child will certainly develop hand-eye coordination, balance, flexibility, speed, power, and endurance by being involved in Martial Arts.

At THE EDGE, children also learn life skills that have been used for centuries to develop strong leaders. From Martial Arts, your child will learn about being self-disciplined (meaning he or she will do known chores like putting toys away, hanging wet towels back up after bath time, and placing clothes in the dirty laundry). He or she will also develop confidence to make new friends and be put in a safe and positive environment to develop friendships with other children who are being positively impacted. Focus for school and listening skills for home are a major part of our program and many parents see positive development begin immediately from being in the program.  





 
 
Our Programs
---
---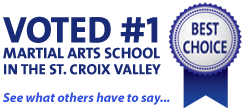 "A Top School in the Nation! I've been to several Martial Arts schools, and nowhere have I found the training experience as good as it is at The Edge. The classes are fun, and give you the skills you need to defend yourself in any situation. I spent years training with Master Nathan Thorn and consider myself extremely fortunate. He gave me confidence to succeed, not just as a fighter, but in real life. Job interviews and social situations are a cakewalk after the training I went through with Master Thorn. I would put my reputation behind this man and his school. Whether you want to simply get in the best shape of your life, become a world fighting champion, or learn how to be someone your friends and family look up to, The Edge is the place to do it!"
---
"Building a healthy body and mind are the reasons I became a student of Master Thorn's nearly ten years ago, but I've stayed with The Edge because I found so much more. I started karate as a 5th grader, and throughout my growing years at The Edge I've learned discipline, respect for myself and others, determination and confidence that I've taken into all areas of my life as a young adult. The Edge empowered me to discover the great things that I'm physically and mentally capable of, and the instructors constantly motivate me and challenge me to improve. Karate is a life sport with lessons for everyone. I highly recommend Master Thorn and The Edge."
---
Share This Page
Know someone who could benefit from what you've seen?
---