WELCOME TO THE EDGE MARTIAL ARTS






Quick facts...




4,000 sq ft. - the largest school in the area
All classrooms have professional, seamless mats
Home of World, Regional, and State Champions
Students develop life skills along with Martial Arts
Over 60 scheduled classes taught every week
Kids Nights, B-Day Parties, School Tournaments, School Events (Picnic, Halloween Party, Good Grades Party, Summer Camp, Many More)
Black Belts are officially recognized by the World Martial Arts Ranking Association
Short Term Memberships available

There are many things that are taught in our classes, and some of those those touch on areas outside of curriculum such as:



- Self-Confidence
- Discipline
- Flexibility
- Goal Setting & Achievement
- Focus
- Concentration
- Determination
- Respect



If you or your children do not excel in a team sport environment where the focus is on the team, not on the individual, then Martial Arts may be the sport for you. Martial Arts curriculum is also different from a school system model where you start in the Fall and have to finish by Summer. Each student will start at the same beginner level and work towards the same goal (black belt), but will move at their own pace.

Each student is given as much time as necessary to complete each belt level and reach a full understanding of the Martial Arts at each level. At The Edge, we encourage individual challenge and a striving to reach our own, highest level of perfection possible. We understand that this level varies for each and every student and so our memberships are in support of that. If you're not looking to make a long commitment up front -- we're ok with that. We have short term memberships available.



Do you thrive on Competition?

Team Edge competes on many different levels including Edge Only Closed Tournaments, State Tournaments, Regional Tournaments, National Tournaments, and World Tournaments. Team Edge has more Champions than any other local school team including State Champions, Regional Champions, and World Champions currently competing! Show the competition why you chose The Edge!




---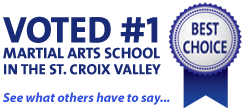 "Master Thorn is a talented martial arts competitor, and a gifted instructor as well. My shy, quiet sons, under his guidance, have blossomed into confident young men and fierce competitors themselves. Nathan not only teaches his students karate skills, but encourages them in many ways to be leaders. I am also impressed that, despite his own advanced level of expertise, Nathan still is a student of the martial arts, and has a genuine interest in exploring different styles and traditions. He shares this passion by constantly updating his class offerings, and inviting respected martial artists to conduct workshops and classes. My sons are black belts at the Edge; we feel lucky to have found such a fantastic school and such a talented teacher."
---
"My wife and I first met Nathan Thorn when we enrolled our son in Karate. We were immediately impressed with his ability to work with young children, teaching them not only the fundamental skills of the sport, but also the less tangible qualities of discipline, respect and a positive attitude. We realized that this was an activity we would enjoy as well, and soon my wife and I were both signed up, gaining the benefits of the physical workout and enjoying the mental challenge of learning the specifics of the sport. Nathan is that exceptional individual who is not only an expert himself, but who can also teach the art to others. He also has the rare ability to be an effective teacher to all age groups—young children, teens and adults. If you're looking for a positive, effective karate instructor for yourself or your children, Nathan Thorn is your man."
---
Share This Page
Know someone who could benefit from what you've seen?
---